Harsh words were not spoken
Contentment settled within the small
corners of your being.
"What's right for me."
You called me once.
Spoke of bonds you had no desire to break.
Your arm, even in slumber, wound tightly
around me as if to never let me go.

Cherished heart.
Beloved one.
Touching as none other had.
Dancing together even alone in the darkness
to music only our own hearts could hear.
Yet you could not be true.
Could not guard that which we had found.
Could not be honest, even at the end.

My heart in tatters yet still you were not done.
Offered it up as a sacrifice for your own pleasure.
Betrayed it once again to placate another's ire.
False lover, false friend.
Betrayal of my spirit and soul.
Igniter of anger that seethes still
within another.

Where is your honor now?
Where is your spirit's beauty?
It can not exist until the wrongs become right.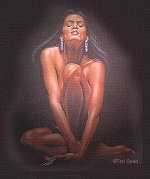 © Copyright Brenda Hager, September 2002

Do not use or reproduce without permission



""When the heart sings and the spirit soars,

the music of life is complete."

bkh - October 99


"Love is the music the heart sings best."


"To bring you laughter each morning and warmth at night...

would bring me joy at all hours." :c)

















Please go visit the author of the

beautiful flute music you hear.

Golana'




This page has been visited by friends times.




View The Kays Guestbook